Summer is here and that means many more people will be hitting the waters and diving into adventures. With that said a dive watch will quickly become your go-to daily timepiece. The versatile look of a diver is attractive – it showcases robust features that blend function with fashion – especially when in or around bodies of water. Everyone should own a diver to round out their collection! Here are the top 5 things you should look for when choosing your dive watch:
1. WATER RESISTANCE
First, it's important to evaluate what you will be using the watch for. For a dive watch 200m of water resistance is fairly standard. If you're skin diving (snorkeling), swimming, or partaking in water sports, 100-200m of water resistance should be adequate. Orient's Mako and the Ray are fine choices, as they fulfill the rigorous ISO standards that prove their worthiness and reliability to descend to lower depths.
2. THE WATCH CASE
To reinforce the water resistance of the watch, the case should feature a screwed-down crown and a screwed-case back. These features are a must! It is very important to double check that the crown of your watch is secured before entering or being around the water. By screwing these pieces down into the case, it highly reduces the risk of the crown or case back being opened by external forces, and thus protecting the watch from water damage. A corrosion resistant stainless steel case is equally as important as it acts as an additional shield against the elements.
3. UNIDIRECTIONAL, ROTATING BEZEL
Many dive watches feature unidirectional, rotating bezels. For divers as well as for practical use, this is used as a timing mechanism. By matching the "0" point on the bezel with the starting time, the wearer can easily track how much time has elapsed. This is extremely important for divers because it keeps track of how much gas may be left in the tank. It's common for diving bezels to be unidirectional and not bidirectional to prevent inaccuracy in the case that the watch is bumped. All Orient dive watches, like the Mako XL, are equipped with stainless steel unidirectional turning bezels.
4. EXCEPTIONAL LEGIBILITY
Dive watches are notorious for their uncluttered dial design and high legibility, both in light and darkness. This makes them great for any situation in or out of the water. The hour markers on a dive watch should be bold and crisp while the hands should be larger than average. Luminescence should be applied to all hour markers – the hands and either the entire bezel or the bezel pip. The lume on the Ray has been lauded for not only being bright, but long lasting. Lume plays a large role in the characterization of dive watches; to some watch owners, lume affects how they perceive a watch as a whole.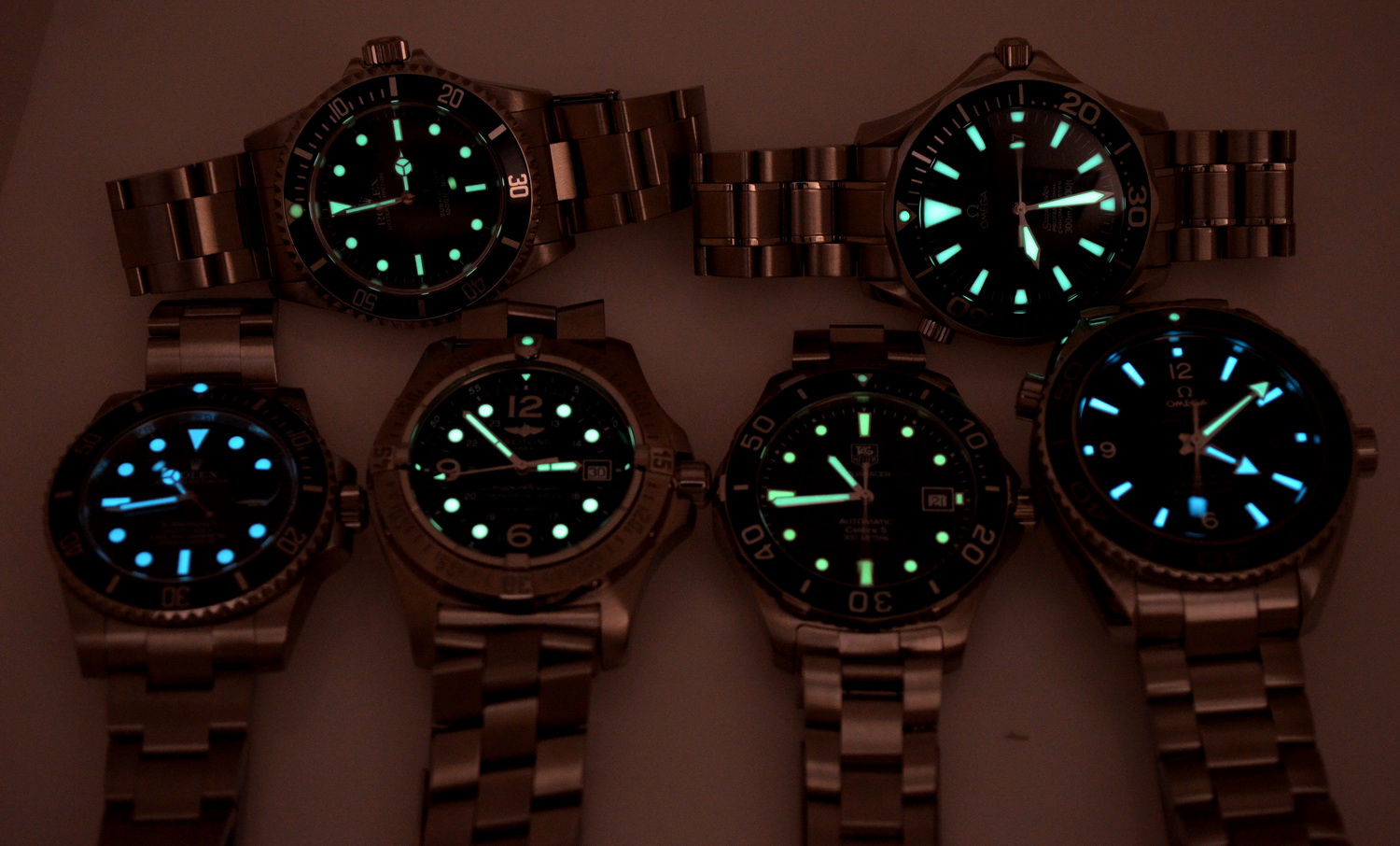 5. A SUITABLE WATCH BAND
We have all seen a limitless amount of watch strap pairings. When a dive watch is concerned, keep in mind that a suitable watch bracelet or rubber strap with vents are recommended for diving. These options are meant to reinforce so that your watch doesn't come off the wrist and float away in the water. For water resistant  and sport watch bands, Rubber B, bracelets come equipped with swiss vulcanized rubber which acts as a is a great feature for a sweat and water resistant proof watch, and prevents the watch from leaving the wrist. As a diver descends, the pressure increases, and in many cases the diver's wetsuit will compress. As a result, a normal strap may allow the watch to slip off the wrist. However, the ridges allow the rubber strap to shrink as well, ensuring a secure fit. We all know that leather and water aren't the best combination, but let's be practical here – stainless steel and rubber are preferable over leather due to the fact that they don't absorb liquid and they won't quickly inherit odors— which is always a concern after an active day in the water!
http://orientwatchusa.com/blog/2015/04/the-top-5-things-you-should-have-in-a-dive-watch/